Hidden Disabilities Sunflower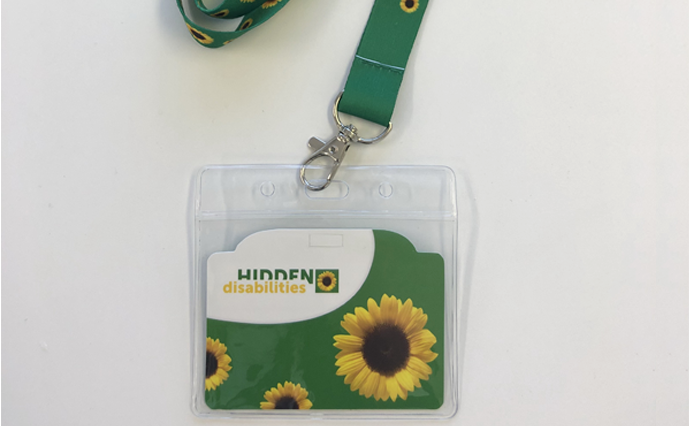 As part of our initiative to better accommodate guests with intellectual / mental impairments or other invisible illnesses such as diabetes and dementia when they visit Haneda Airport's Terminals 1, 2, and 3, we have started issuing Hidden Disabilities Sunflower Straps at the information desks of each terminal as part of a trial. The straps make it easier for airport visitors to use support and guidance services. 
Trial period: Tuesday, March 1st, 2022 - Friday, March 31st, 2023
We ask customers who use the services to kindly help us by answering the questionnaire found through the QR code issued with the straps.
The straps are issued free of charge.
Links
List of Places
Distribution Point

T1 (Terminal 1)

Marketplace Information Counter

Operating Hours

 6: 00-22: 00 * Please use the phone found at the information counters if a staff member is not present.

B1F Market Place
Airport Service Center

Opening Hours

​ ​6:00-20:00

1F Market Place
Information Counter Terminal lobby (south)

Operating Hours

 6: 00-20: 00 * Please use the phone found at the information counters if a staff member is not present.

2F Departure Lobby South
Distribution Point

T2 (Terminal 2)

Information Counter (Center)

Operating Hours

 6: 00-22: 00 * Please use the phone found at the information counters if a staff member is not present.

B1F Terminal Lobby (center)
Information Counter Terminal lobby (north)

Operating Hours

 6: 00-22: 00 * Please use the phone found at the information counters if a staff member is not present.

2F Terminal Lobby (North)
Distribution Point

T3 (Terminal 3)

Information Counter in the Entrance Plaza
1F Entrance Plaza
Information Counter in the Departure Lobby

Operating Hours

 24 hours * Please use the phone found at the information counters if a staff member is not present.

3F Departure Lobby