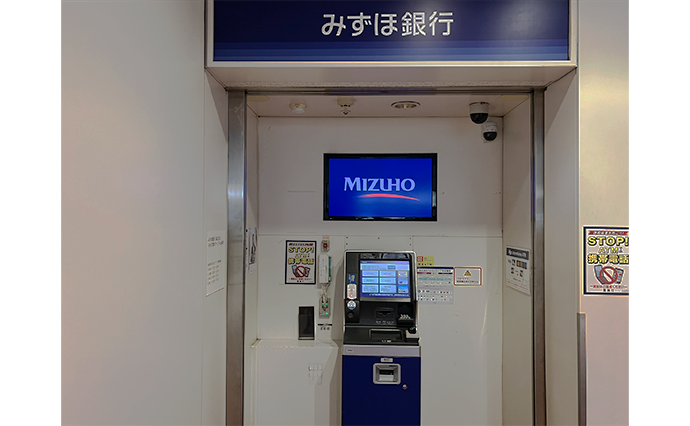 Bank and ATM locations and opening hours are outlined below.
Other credit cards can also be used with these cash dispensers.
Withdrawals from ATMs in the Airside Area are limited to 30,000 yen per withdrawal (in units of 1,000 yen).
Opening hours are subject to change without prior notice, so please check the banks' websites for details.
List of Places
Bank​ ​

T1 (Terminal 1)

Mizuho Bank

Opening Hours

​ ​9:00-15:00 (closed on weekends/holidays) ATM open Monday-Friday, 7:00-24:00 (weekends/holidays: 8:00-21:00)

Phone Number

​ ​03-5757-9591

1F Arrival Lobby
Mizuho Bank
ATM​ ​

T2 (Terminal 2)

MUFG Bank ATM

Opening Hours

​ ​5:00-24:00 (not available from 21:00-7:00 on the 2nd Saturday of the month)

1F Terminal Lobby (South)
Mitsubishi UFJ Bank
Kiraboshi Bank ATM

Business hours

Weekdays 7:00-23:00 Saturdays, Sundays, and holidays 7:00-21:00

1F Terminal Lobby (South)
Kiraboshi Bank
Japan Post Bank ATM

Opening Hours

​ ​Weekdays 7:00-23:00, Saturday 8:00-21:00, Sundays and holidays 8:00-20:00

1F Terminal Lobby (South)
Japan Post Bank
Japan Post Bank ATM

Opening Hours

​ ​Weekdays 7:00-23:00, Saturday 8:00-21:00, Sundays and holidays 8:00-20:00

2F Terminal Lobby (North)
Japan Post Bank
Mizuho Bank ATM

Opening Hours

​ ​Weekdays from 6:00-23:00, Saturdays 6:00-22:00, Sundays and holidays 8:00-21:00 (not available from 6:00-7:00 on Mondays)

B1F Terminal Lobby (South)
Mizuho Bank
Mizuho Bank ATM

Opening Hours

​ ​Weekdays from 6:00-23:00, Saturdays 6:00-22:00, Sundays and holidays 8:00-21:00 (not available from 6:00-7:00 on Mondays)

2F Terminal Lobby (North)
Mizuho Bank
Mizuho Bank ATM

Opening Hours

​ ​Monday 7:00-21:30, Tuesday-Friday 6:00-21:30, Saturday 6:00-21:30, Sunday 8:00-21:00

2F Domestic Departure Gate Lounge (South) Close to Gate 63
Mizuho Bank
SMBC Bank ATM

Opening Hours

​ ​Weekdays and Saturdays from 7:00-24:00, Sundays from 7:00-21:00 *Opening hours on holidays follow the same rules

B1F Terminal Lobby (South)
SMBC Bank
Seven Bank ATM
B1F Terminal Lobby (North)
Seven Bank
Seven Bank ATM
2F Terminal Lobby (South)
Seven Bank
Seven Bank ATM
2F Terminal Lobby (North)
Seven Bank
Seven Bank ATM
2F International Arrival Lobby
Bank​ ​

T3 (Terminal 3)

Mizuho Bank

Opening Hours

​ ​9:00-15:00 (closed on weekends/holidays) ATM open Monday-Friday, 7:00-24:00 (weekends/holidays: 8:00-21:00)

Phone Number

​ ​03-5708-0311

1F Entrance Plaza
Mizuho Bank
ATM​ ​

T3 (Terminal 3)

Mizuho Bank ATM

Opening Hours

​ ​Weekdays from 7:00-24:00, Weekends and holidays from 8:00-21:00

1F Entrance Plaza
Mizuho Bank
Mizuho Bank ATM

Opening Hours

​ ​Monday 7:00-24:00, Tuesday-Friday 24 hours, Saturday 0:00-22:00, Sunday 8:00-21:00 (not available from 3:00-5:00 on the 1st and 4th Saturdays of the month)

3F Departure Lobby
Mizuho Bank
Mizuho Bank ATM

Opening Hours

​ ​Monday 7:00-24:00, Tuesday-Friday 24 hours, Saturday 0:00-22:00, Sunday 8:00-21:00 (not available from 3:00-5:00 on the 1st and 4th Saturdays of the month)

3F Airside Area
Mizuho Bank
Japan Post Bank ATM

Operating Hours

 24 hours (not available from 00:00-07:00 on the 3rd Monday of the month)

2F Arrival Lobby
Japan Post Bank
MUFG Bank ATM

Opening Hours

​ ​24 hours (not available from 21:00-7:00 on the 2nd Saturday of the month)

3F Departure Lobby
MUFG Bank
SMBC Bank ATM

Operating Hours

​ ​24 hours (closed from 21:00 on Sunday to 7:00 on Monday)

3F Departure Lobby
SMBC Bank
Seven Bank ATM
2F Arrival Lobby
Seven Bank
Risona Bank ATM

Opening Hours

​ ​24 hours (not available from 21:00-8:00 on the 2nd Saturday of the month)

3F Departure Lobby
Risona Bank